Khaosan Road (Banglampoo)
If Bangkok is a city where East greets West, then Khaosan Road is the scene of collision
Khaosan road… The world famous backpacker street located nearby the Banglampoo area of Bangkok, not far away from the Grand Palace. Judging by the truth-seeking travelers for over twenty years now, Khaosan road is favoured by them for its budget accommodation. Thus, this has been the base camp of choice in Thailand and South East Asia.
Obviously Khaosan road is also an attractive place to go shopping. This is an extensive market with a huge range of inexpensive goods, from souvenirs items, clothes, footwear, cosmetics to Thai handicrafts. There are plenty of shops for women's readymade clothing, like dresses, skirts, accessories, shoes and bags. For men, there are plenty of stores selling personal-made tuxedos, which are a lot cheaper than in most Western countries.
Besides there are also few secondhand book stores, many convenience stores and internet cafe', banks and monetary exchanges, tour & travel small agents located here. All that makes it well worth a visit.
As always when buying at markets in Bangkok, remember to bargain. But don't argue over a few Thai baht. Meet them somewhere in the middle.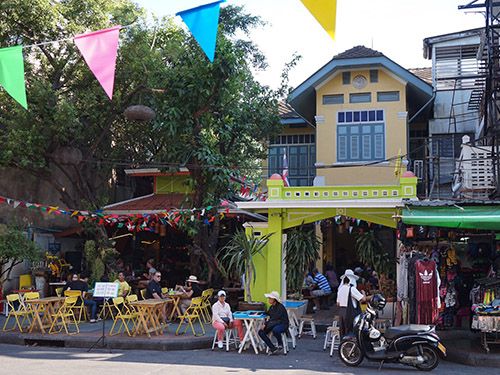 A center of silver jewelry business
More than a couple decade, Khaosan road is well known as a home for wholesale fashion silver jewelry. Today, almost a hundred shops are situated in Banglampoo area including Tanao road, Khaosan road, Mayom road and Rambuttri road so that you can see them on both sides of the roads.
There are different kinds of materials, various styles of design.  You can also specify to satisfy your desire. They have been visited by international businessman both wholesaler and retailer from all over the world.
How to get in and around Khaosan Road
Getting to Khaosan from either Victory Monument, Siam or Silom should cost less than 100 Baht by meter taxi. Bus No.157, 171 and 509 from Victory Monument (Rajavithi Hospital bus stop) pass Ratchadamnuen road. You can get off at Khok Wua intersection (one stop away from Democracy Monument).
Khaosan road is only a short walk from there. Once in Khaosan, the easiest way to explore the area is on foot.
If you would like to go on a fun and exciting Tuk Tuk ride, it is recommended to fix the price for service before hopping on.
We are the first pioneer company to settle down to serve you here in Khaosan road area.
With more than 16 years of experiences serving on this area, we are well known and have strong relationship with all shops around.
We are always the first choice preferable for customer both from all shops and walk in foreign customer.
You can be pleased to visit our office located on Tanao road just within 5 minutes walk to Khaosan road and place your belongings here for shopping at ease.
How we can solve export solution here
We can pick up your goods within our areas and packing by using our box supply provided with all free of charge.
We can collect and carry your goods from our 4 areas to any branch of us to send at one shipment time for your convenience.
We can accept your payment by your money transferred whatever for our freight cost or including your goods paid to the shop you buy (if you prefer).